Following complaints to CRT by concerned boaters and by the Wiltshire Hunt Saboteurs, CRT's Legal Director has written to Avon Vale Hunt threatening legal action if the hunt continues to carry out hunting with dogs on the K&A towpath. The hunt was seen on the towpath at Horton last week and has also been seen at Bishops Cannings. Hounds have in the past killed boaters' pets. If you see any trail hunting or foxhunting on the towpath, please report it to CRT – see https://canalrivertrust.org.uk/contact-us – and get photos or videos if possible.
Foxhunting has been illegal since 2004 and hunting with hounds is now restricted to trail hunting, that is, the hounds following a laid scent trail not a live fox. However there have been many instances of hounds chasing live foxes and hunt officials failing to stop this from happening and even encouraging it.
Hunting and shooting on the towpath are prohibited by the General Canal Byelaws 1965-1976.
Byelaw 31 states: "(1) No person, unless authorised by the Board or otherwise legally entitled so to do shall:
(a) Ride or drive any animal or vehicle over any towing path…"
Byelaw 46 states: "No person shall throw, shoot or otherwise propel any stone, shot, bullet or other missile from, into or over any vessel or canal."
See https://canalrivertrust.org.uk/media/original/1025-general-canal-byelaws-1965.pdf
Wiltshire Hunt Saboteurs said:
"We urge all those people who have reported the hunts trespass incidents to also take photos and video evidence the next time the Avon Vale (or indeed any hunt) and a location, and report to the police as well and the Canal and River Trust. The CRT have assured us they will take further action against the Avon Vale if this happens again."
"We know the hunt trespasses on [CRT] land routinely particularly when they meet in the area they hunted yesterday, but we want to ensure that the Canal and River Trust take action and stop ignoring the pleas of boaters to deal with this."
A description of the incident is here
https://www.facebook.com/1202912723079637/posts/4371331202904424/?d=n
Here is the letter from CRT's Legal Director Tom Deards to the Wiltshire Hunt Saboteurs
Here is the letter from Wiltshire Hunt Saboteurs to CRT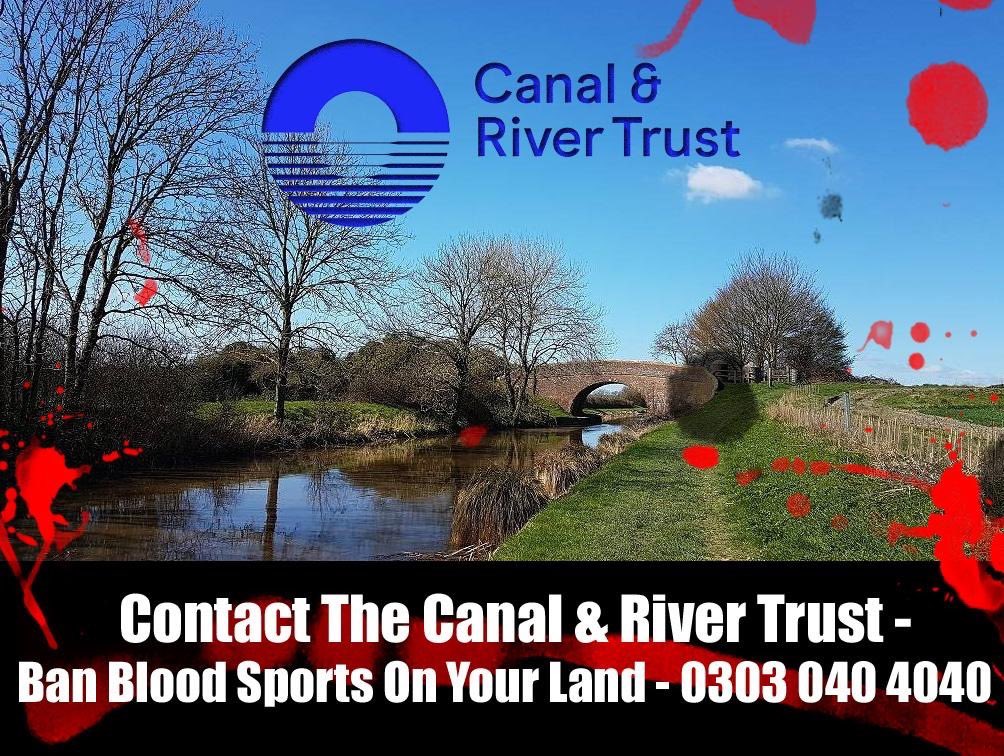 See also
https://www.facebook.com/wiltshirehuntsabs/
https://www.keeptheban.uk/about
Tags: Byelaws, illegal foxhunting, trail hunting